MAHAKAL MINI STATUE (5 Inch) - Har Har Mahadev !
• Country of origin: India 🇮🇳
• Packed with safety 🎁
• #VocalForLocal - Homegrown Indian Brand 📢

Colour: Colours may slightly vary due to screen.
Shipping Time: Upto 3-7 days in transit.
Returns: 100% Refund Policy Click Here.
Queries? Whatsapp your query at 81079-79366.
(Response Time : 24 Hours)

Description
SKU : at-mahakal-statue

🙏 तुम ही अंत, आरंभ तुम ही हो,
Awaken the Divine within you!
This is a miniature version of the Shree Mahakaleshwar Jyotirlinga, is a Hindu temple dedicated to Lord Shiva, and is one of the twelve Jyotirlingams, shrines that are said to be the most sacred abodes of Lord Shiva. It is located in the ancient city of Ujjain in the state of Madhya Pradesh, India.
Lord Shiva holds an auspicious holy value and is worshipped by numerous people across the globe. This Mahakal Mini Statue is no lesser than the one in the temple.
If you worship Lord Shiva, this is a must-have piece to be placed in the Mandir of your home or you can keep it on your car's dashboard.
Displaying artistic craftsmanship, this Idol of Mahakal designed in resin is calming to look at. Radiating an aura of immense tranquility, peace, and positivity, this Idol is truly a work of art. Keep this in your living space to beautify your atmosphere.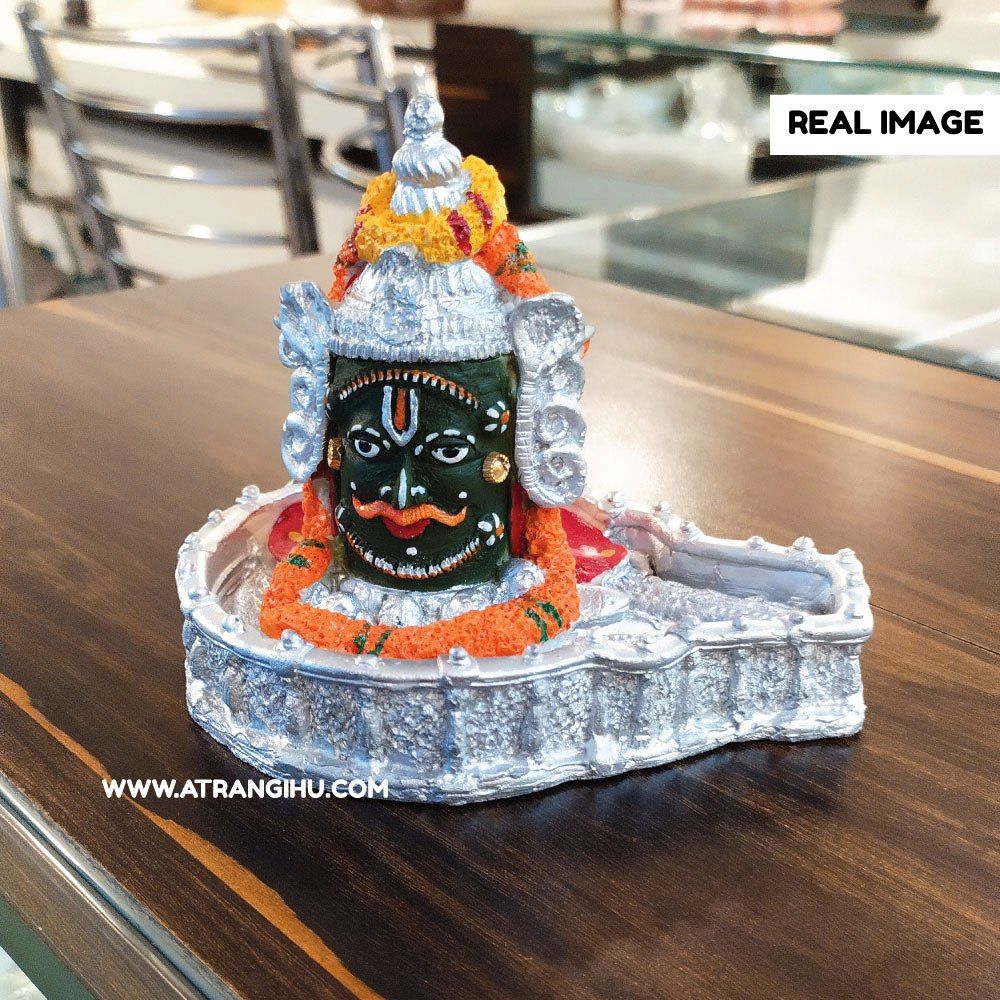 3d Mini Statue of Baba Mahakaaleshwar (first time ever)

Sanitised with Gangajal

Limited pieces

Made with the high quality guaranteed to last and sunlight safe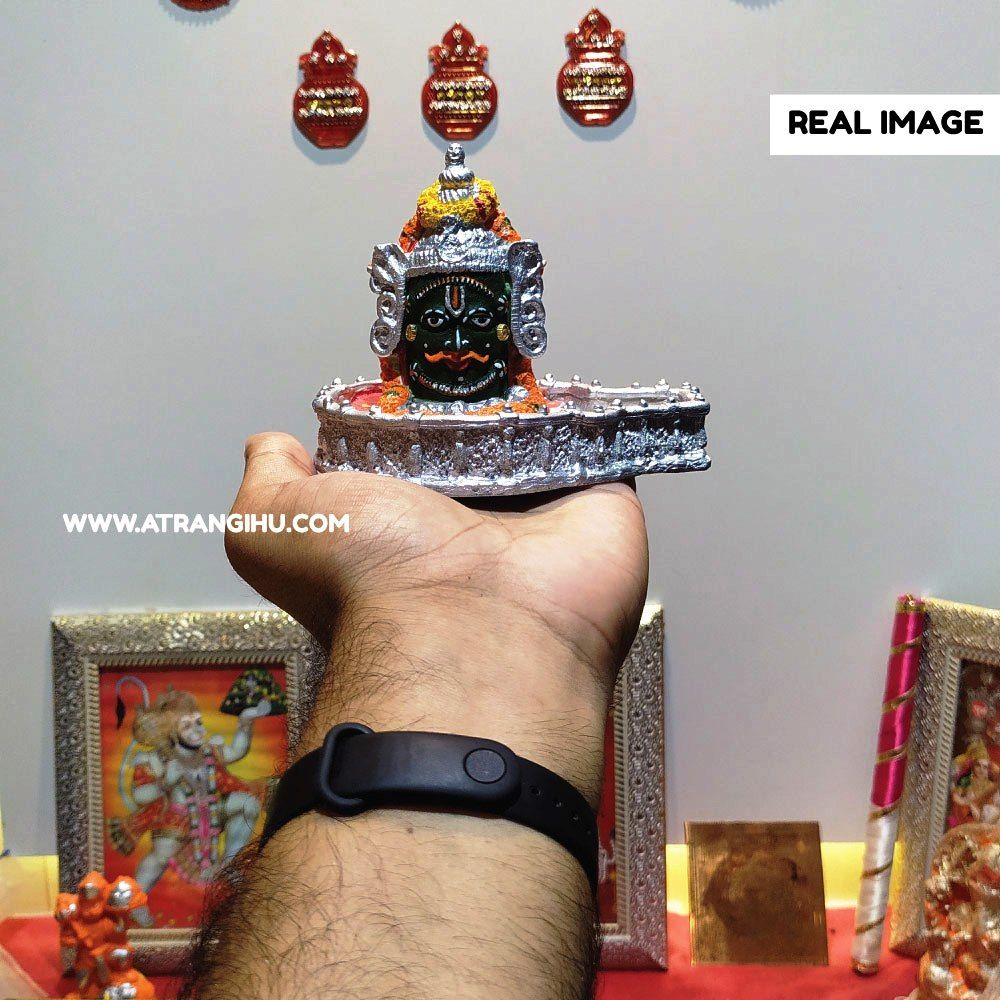 Legal Information:
All content of the product (including, but not limited to, logo, photos, designs, graphics, and text ) is the property of 'Atrangi Hu' and is protected by Indian Copyright and other intellectual property laws. Any unauthorized reproduction or copying of the product, video or image featured of this product and belonging to 'Atrangi Hu' may result in legal action.
---
Frequently Asked Questions? (FAQ)
Q1. What is the weight and size of the Statue?
Ans. Weight Approx - 350 grams | Size - (L x W x H): 16.5 cm x 11cm x 13 cm
Q2. What is the material of the product?
Ans. It is made of High-Quality Imported Poly-Resin material.
Q3. Is this Handmade?
Ans. Crafted by Skilled Indian Artist - This figure is having detailed handwork and we give attention to even the smallest details of Idols.
Q4. How do we stick it in Car Dashboard?
Ans. Use any double-sided tape available at the local stationery shop.
Q5. Is it Plastic?
Ans. It is certainly not plastic, it is way heavier and made of poly-resin material which is widely used to make high-quality idols.
Q6. Why should I buy from Atrangihu.com and not from other websites like Amazon, Flipkart, Etc.
Ans. There are much cheaper and low-quality copy versions of this product being sold in the market, their quality defines their price. We are manufacturing these idols ourselves so we have direct control over the quality of the idol. Each and every idol is duly checked before shipping out to the customers.
Q7. How can I clean this from time to time?
Ans. Always clean it with a soft and dry cloth.
Q8. Can I put water to it while worshiping Lord Shiva?
Ans. Yes, we can pour water into it but immersing the idol in water is not recommended.
Q9. Is there a refund or exchange policy for this product?
Ans. In a rare case if there is any defect or you do not like the product we take full responsibility and offer a 100% Refund / Free Exchange Policy you can always reach out to us within 7 days for support @81079-79366 (Whatsapp Chat Only) | Response time – Up-to 24 Hours
Q10. Shipping Time?
Ans. Orders with complete addresses get shipped out the same day and will reach anywhere between 3-7 Days, Incomplete address orders are confirmed on call in 1-2 days and then shipped.
---
🔥Not sold in stores - online exclusive!

⚡ Limited stock - get yours today!

✅ FREE Shipping
✅ FREE COD
✅ FREE Exchange & 100% Refund Policy
📞 Whatsapp All Queries at - 81079-79366 (No Call Only Chat)
🚚 📦 Delivery: Within 5 days
⭐️⭐️⭐️⭐️⭐️
*CUSTOMERS TRUST*
Cause we're ladies & gentlemen serving ladies & gentlemen everyday. Expect nothing less!